Interesting news, cool links, social commentary, and a large devoted audience. That's Reddit in a nutshell. Billed as "The Front Page of the Internet", Reddit defies the nutshell and is so much more than words can describe. There are many reasons to love Reddit, but the one we're focused on here is the website's fantastic marketing potential for auctioneers. Here's an example to prove the point.
One of our clients was contracted to liquidate an old tow-yard that included a nice collection of barn-find classic cars. The auctioneer had exhausted his advertising budget and was looking for other ways to promote the sale, which was scheduled to start the next day. I mentioned that Reddit might be a good place to share the news because there are a lot of gearheads and car nuts on the site. We posted a couple of links and within a few hours, Reddit delivered more website visitors than all previous advertising efforts combined. These were high-quality visits too, from a self-selected group of automobile enthusiasts who returned multiple times to the website and shared the news with their friends. My client and I were both ecstatic about the results. But then a journalist from a major automotive magazine saw the post on Reddit and republished it as an online article, which lead to an even greater surge in traffic to the auction website. At the end of the day, our little posts on Reddit brought in an additional 2,000+ unique visitors to the online auction. Cha-ching! As you might suspect, the auctioneer is now an ardent redditor, as the website's users call themselves.
Ready to Become a Redditor?
Not so fast. Reddit may be a goldmine for auction marketers, capable of delivering a measurable stream of highly targeted traffic to your website, but you can't treat it like Craigslist or any of the other places you normally advertise your sales. It's an online community that has its own way of doing things. If you fail to observe the community's "reddiquette" then you will be downvoted to oblivion... or worse. Here's how it works.
Getting Started with Reddit
Reddit is composed of a whole bunch of "sub-reddit" categories that cover every topic you can imagine. You can search the website for the right sub-reddit to post your auction news. Picking the right one is the most important part of this submission process. Your post will be deleted or downvoted if you submit to the wrong sub-reddit. You are welcome to post your upcoming auctions to r/everysingleauction, but it is not a big enough sub-reddit right now to generate much traffic. Maybe you can help us build it with your submissions.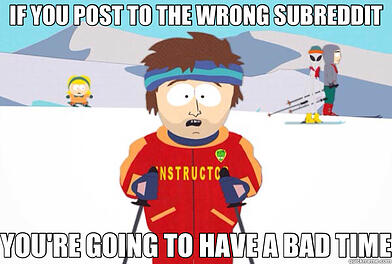 Seriously. Post your news to the right sub-reddit.
When you first get started, you can register an account without having to verify your email. Don't do that. Verify your email so that you can build up karma as you comment and post links. Your "karma" points reflect your standing in the community based on the comments and links you have shared. Don't get too excited about karma though - they are just made-up points that won't help improve the visibility of your posts. But they are a good indicator of your status among other redditors – and people do look at it.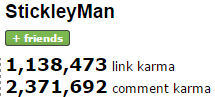 Wow! That's a lot of karma!
Also, be careful about picking your username. It can't be changed once you have registered. You, and everyone else, can access an archive of the posts you have started, every link you have submitted, and every comment you have made.
Oh, and if you build a bunch of karma on your account, you won't be able to transfer it to another account later.
Basics of Reddit Marketing
Redditors really engage with content that is original, witty, interesting, informative, outrageous, and cute. The reason the site is so popular and addictive is due to its free and open nature. Anything and everything goes. According to statistics from The Pew Research Center, men are twice as likely as women to be redditors. People under 50 are significantly more likely to use reddit than those 50 or older, and the site is much more common among urban and suburban residents than among those living in rural areas. Although it is a truly international site, the majority of users are located in North America.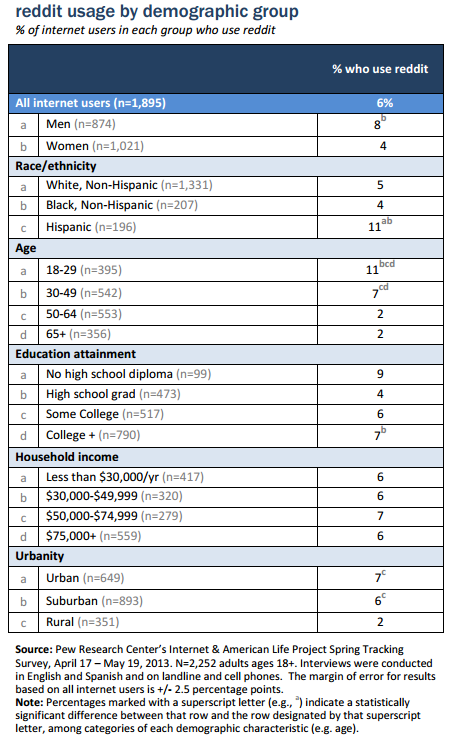 6% of online adults are redditors
As of February 21, 2015, Reddit gets about 18 million unique visitors per month and about 150 million pageviews. See current statistics here.
Interaction is Key
Redditors can easily spend many hours on the site every day, and they are eager to click on the right links. They know that a lot of people are trying to scam them, so use your entire URL when posting links. DO NOT USE URL SHORTENERS. It's not like there are any character limits.
If there is one takeaway point to all of this, it is that engagement and interaction is pivotal to success on Reddit. It's not a one-way conversation. Post your awesome pictures, videos, and stories about the auctions you've got coming up. Anything that may be interesting or relevant to a particular sub-reddit. Use the collective conscious of redditors by asking for help or suggestions. Upvote helpful comments and leave your own comments. Be yourself. Be sincere. Be honest.
Upvoting is what pushes your content to the top. The more upvotes, the more eyeballs. If you get to the front page of Reddit you will most likely kill your website's server (unless you're hosting with us) when tens of thousands of visitors flood your website all at once with a Reddit Hug.
Get the Right Subreddit & Follow the Rules
There are times when the subreddit you're thinking about posting to is too targeted. Check out how many people are subscribed to the subreddit before posting. Check for recent content too. The more active it is, the better. If you can find a way to make your post relevant to a broader subreddit with more traffic, do it.
If you cannot find a subreddit by topic, think about posting to a regional subreddit. There are thousands.
Always read the rules for the specific subreddit you are posting to. Don't be abusive by slamming a bunch of new posts all over the site.
Don't be a spammy. You will fail.
Even though Reddit is all about sharing massive amounts of information about all kinds of stuff, it's not easy for your average marketer to use well. Reddit has been around a long time and has a very committed user base. They are used to people trying to advertise to them. They don't mind if it is done well, but if you approach Reddit posts the way you do Facebook or Twitter, you are likely to get a lot of angry comments, your posts flagged as spam, submitted as abusive content, and basically never heard from again.
If you can tap into the underlying pulse of the subreddit you're posting to with high-quality and relevant content, you will be rewarded. Take your time and create the high-quality content redditors are looking for. Craft your posts well and you'll reap massive amounts of traffic.
Reddit Will Take Your Money
Of course Reddit will take your money for paid advertising. Guarantee your post a spot with Reddit advertising. You can target your ad to show on all of Reddit (untargeted) or only certain subreddits you choose (targeted). The self-serve advertising FAQ will answer all your questions about how to set up an ad campaign and promote with Reddit.
Wrapping Up Reddit
Reddit is an amazing blend of humanity, with all of its weird quirks and ecentricities. It can make a huge difference when it comes to getting the right people to hear about your upcoming auctions, but you have to treat them well. It's not a generic advertising resource. It's a community of people. If you give to them, you will receive.