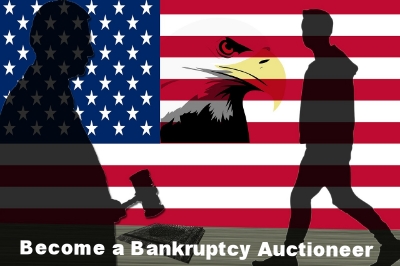 It's no wonder that so many auctioneers want to get in on the business of bankruptcy auctions. When consumers and businesses file for Chapter 7 bankruptcy protection, they often have assets that need to be liquidated at auction for the benefit of creditors. The court-appointed bankruptcy trustees who administer the cases and oversee liquidations take in gross receipts worth more than a billion dollars each year. And each year they pay out tens of millions of dollars to the auctioneers, real estate agents, and liquidators who help them sell assets.
Bankruptcy auctions can be a lucrative business, but no one will tell you that it is easy. Especially not in the beginning when you are trying to break into the market. Most bankruptcy trustees already have a go-to auctioneer or auction company and will dismiss anything but the most serious attempts to earn their business. You can send all the letters, postcards, and emails you want, but they will wind up in the garbage can or spam box - just like those from all the other auctioneers who want to sell on behalf of bankruptcy trustees.
If you want to get your foot in the door with Chapter 7 trustees so that they will hire you to liquidate bankruptcy assets, then here is a proven strategy:
Find the Trustees in Your Area
The United States Department of Justice maintains a Chapter 7 Panel Trustees Office Locator that provides contact information for every single Chapter 7 bankruptcy trustee in the country. Name, mailing address, phone number, and email addresses are typically provided. Familiarize yourself with all of the trustees who work in your region.
Become a Member of the Bankruptcy Community
Without a doubt, you will want to become a member of the National Association of Bankruptcy Trustees and the American Bankruptcy Institute. But don't stop there. There are also state and regional associations for insolvency professionals. Nearly every state bar association has a bankruptcy or commercial law section that
By joining the right national, regional, and local bankruptcy associations, you will find out about all the events that will be attended by insolvency professionals, including trustees, their attorneys, and the attorneys who represent secured lenders. Becoming a member of these associations is good, but you will gain the most by exhibiting at their conferences and networking at the semi-regular cocktail parties that they throw.
Provide Continuing Legal Education
Public speaking comes naturally to many auctioneers. Nearly every state has a bar association with a special section dedicated to bankruptcy law and/or commercial law. The section chairs and vice-chairs are always looking to find speakers to provide continuing education to the members of their section. Let them know that you are available to speak about auctions and appraisals as they relate to bankruptcy practitioners.
DOWNLOAD A LIST OF ALL BANKRUPTCY SECTIONS HERE
Get Bonded for Bankruptcy Auctions
You will not be allowed to conduct any bankruptcy auctions until you are specifically bonded for these types of sales. It is not difficult or expensive to get this bond. E.R. Munro & Company has more information and can provide you with a bond, but you can also just Google "bankruptcy bond auctioneer" for a list of other companies that can help you.
Get to Know PACER
Public Access to Court Electronic Records (PACER) is an electronic public access service that allows users to obtain case and docket information from federal appellate, district, and bankruptcy courts, and the PACER Case Locator via the Internet. In order to use PACER, you will first need to register an account and provide a credit card number. It's not a free service.
Visit Bankruptcy Trustees in Person
Now comes the important part. You need to meet the trustees in person and introduce them to your services. You could call them and try to make an appointment for a visit, but it will be difficult to receive an audience. Instead, you need to go where you are guaranteed to find them: at the courthouse.
An inescapable part of every bankruptcy trustee's job is to conduct the first meeting of creditors, also known as 341 meetings. On the days they have 341 meetings scheduled, the trustees must sit in a courtroom all day and interview every single debtor using the same set of questions over and over. It's rarely interesting, fun, or personally rewarding for them. By and large, 341 meetings are the least enjoyable part of the trustee's job. You can use this to your advantage by offering them a break from their drudgery.
You can find out when the 341 hearings are scheduled by querying PACER's calendar of events. Pick one of the trustees and send them a simple email letting them know that you plan to be at the courthouse on the same day as their 341 meetings, that you will stop by and introduce yourself, and that you hope that they will join you for lunch that day.
Get to the courthouse early on the day of the meetings so that you can be in the right meeting room before the hearings start. Dress professionally and bring your business cards. As soon as the trustee settles into his or her place, just walk up, hand them your card, and ask them if they would like to go to lunch. Regardless whether they say yes or no, you will have taken the first step in building a relationship with them. Be sure to follow up on your visit.
While You're There
Since you are at the courthouse anyway, you might as well attend a few hearings. Not only will it pay to familiarize yourself with the bankruptcy judges and courtroom procedures, but by attending the same hearings as the creditors, you may put yourself in a position to help them with their secured assets as well. Listen to the disputes involving assets and pay attention to the various parties involved. At some point, it is likely that you will find these parties conducting business in the halls outside the courtroom. You are always free to walk up, introduce yourself, volunteer your services, and leave them all with your business card.
Get Ready to Work
Prove yourself by being professional, yet persistent The trustees need to know that you are not just looking to score the big easy cases. They want an auctioneer they can trust as their agent in the field, a problem-solver who is willing to work hard even when the financial reward is uncertain or minimal. Be willing to perform free asset inspections and valuations, and be ready to jump on every opportunity they send your way. Every time a trustee asks for your assistance on a case, it could be the big bankruptcy auction you have been waiting for - even if it doesn't look like it in the beginning.

As you venture further into the field of bankruptcy auctions, it pays to keep these words from Teddy Roosevelt in mind:

"Nothing in the world is worth having or worth doing unless it means effort, pain, difficulty…"

Thank you for joining my network of auction professionals on LinkedIn. Let me know if I can ever help with a referral or introduction.
And if you're interested in having an online auction platform for selling industrial assets on your own website, give me a shout. I'd be happy to send you more information about AuctionMethod's software service.
Take care!