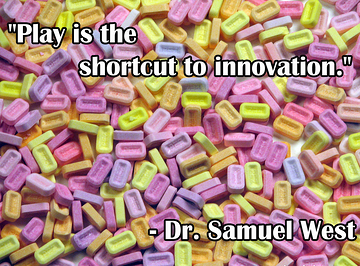 A few days ago I was discussing AuctionMethod's new social media management program with Samuel West, a doctoral student at the University of Lund in Sweden who specializes in the research and application of "adult play as a facilitator of creativity in an organizational context." In particular, we were talking about the importance of Twitter. Given all the great success our clients have seen on the platform, I was encouraging my brother to become more active on Twitter too. To demonstrate its effectiveness as a marketing vehicle, I whipped up the image to the right and tweeted it at him. The image was quickly sucked up into the Twittersphere, where it was shared with thousands of people, many of whom started following @samuel__west. The next day, I received this tweet in response:

The question he asked - whether auctions conducted entirely on the internet can be fun and playful - really got me thinking. A live open-outcry event provides many opportunities for playful engagement between the auction staff and the bidders. Bidders who have fun are more likely to participate in the auction and come back to future events. Internet auctions offer fun and excitement, but how can companies that sell by online-only auction provide employees and customers with opportunities for playful interaction?
At the risk of seeming like a one-trick pony, I offer my first suggestion:
Encourage Employee Social Media Sharing
Employees have a genuine vested interest in the success of the company. They're passionate about the auction business, they take pride in the work they do, they enjoy the camaraderie of the people they work with, and they excitedly watch the outcome of each auction. Employees are natural brand champions for the company and provide a glimpse into the personality and culture behind the website. As they participate in various social channels, they offer a human point of contact for customers, community members, potential hires, and others. When employees engage in social media, they facilitate knowledge sharing and gather important feedback that can benefit business development and the overall customer experience.
Since employees already use many of the same social channels as the company in their day-to-day lives, it should be a natural extension of what they are already doing to help spread the company's message. And think about it - each employee's social network is also engaging its social networks. The opportunity to extend a company's reach is enormous! By combining an employee's passion for their work with social media activity they are already engaged in, online auctioneers can increase awareness with very little effort or cost to the company.
While there may be some topics that are off-limits, auctioneers should let their employees know that social media sharing is perfectly acceptable and encouraged. Tell them to have fun at work and talk about it! They should post pictures of all the interesting stuff they come across, videos of the crew goofing around, questions about mystery items, selfies at lunchtime, complaints about the weather, news, funny memes or whatever else they want. And don't just say it! Make a deliberate effort to give employees the latitude they need to play at work and reward them when they share the fun with others.
I look forward to hearing if Samuel has other thoughts on ways to boost innovation, creativity, fun, and playfulness at online auctions. Do you have a comment or an idea? Tweet @BigBeltBuckle or send me a message here.