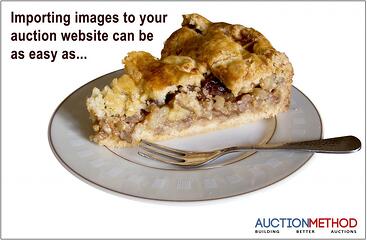 As a software development company, we are committed to building new features for the AuctionMethod platform that are responsive to the needs of our clients. Since the platform is provided using a SaaS (Software as a Service) model, we are able to accelerate feature delivery with regular updates of our clients' websites. When they come to us with an innovative idea or a problem, we can quickly design, develop, and deploy a solution to meet their needs. Let me give you an example.
Recently, a client came to us with a request to add alternative methods for importing images for their online auction catalogs. The platform already featured a robust HTML uploader that allows users to easily upload thousands of pictures at a time and even have them automatically assigned to auction items based on QR-code recognition (example QR lot label) or a naming convention (100-1.jpg, 100-2.jpg, etc). Now, thanks to our client's brilliant suggestion, the platform also offers image imports via FTP and Google Drive.
When the FTP import option is selected, the user simply specifies which directory will be used. The default FTP server and access credentials are already displayed, but the user can edit the information in order to use a different server, as shown below.
When the Google Drive import option is selected, the user can select a folder using the drop-down menu or they can type in the name of the directory, as shown below.
So, if you're already storing your auction images on an FTP server or Google Drive, it's as easy as pie to import those pictures and create your online auction catalog using the AuctionMethod platform.
These new image upload features join an impressive suite of auction management tools designed to increase efficiency, lower costs, and enhance the customer experience. If you are ready to optimize technology to grow your auction business, give us a shout. We'd love to hear about your plans and how we can help.