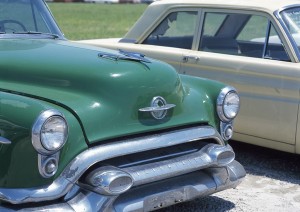 It is always fun to get new newsletters about classic car auctions at ESA. Companies like Leake Auction Company and Dan Kruse Classics always put pictures of their best cars in their auction newsletters. Judging by the amount of interest in their auction announcements, it seems everyone has a soft place in their heart for old roadsters, coupes, convertibles, muscle cars, boattails, phaetons, and woodies.
Just in time to indulge our weekend fantasies, Dan Kruse posted an announcement about their Hill Country Classic auction to be held at the Palmer Events Center in Austin, Texas. They are expecting to have at least 180 classic and collector cars in the sale and are actively encouraging new consignments. If you want to sell your old car at the auction, you can use this preliminary entry form to consign. And if you're really eager to bid at the auction, here is a preliminary bidder's registration form.
Here is the basic info about the auction. Check the Dan Kruse auction information page for more info.
Auction Date: Saturday, September 28, 2013
Auction Time: Saturday at 10am
Photo Deadline (for incluion in the full color brochure): August 23, 2013
Check In: Friday, September 27th from 9am until 6pm
Check Out: Sunday September 29th from 10am until 5pm
(office is open until noon only)
Location:
The Palmer Events Center
900 Barton Springs Road
Austin, Texas 78704
Map
For more details, contact:
Tiffany Kruse
Dan Kruse Classics
11202 Disco
San Antonio, Texas 78216
866.495.8111 Phone
866.827.7227 Fax
tiffany@kruseclassics.com Email
Part of today's announcement from Dan Kruse about the Hill Country Classic auction was the inclusion of a 24-vehicle collection from the estate of William Addison. Here's a list of the vehicles, with links to the auction item pages. I did not get in touch with Tiffany before publishing this post, otherwise I would have included a few pictures. Be sure to visit the site to see the cars themselves.
Out of this collection, I would have to say that the most intriguing vehicle is the 1967 Rolls-Royce Silver Shadow Custom Pickup. I've never seen one before. Didn't even know they existed. But here it is - the luxury El Camino, the ultra rich Ranchero. For sale without reserve. Here's the catch - the steering wheel is on the right. Blimey!
And if you're not in the mood for a classic car auction, how about some real estate or restaurant equipment? Lots of upcoming auctions at EverySingleAuction.com!
Have a fantastic weekend - from the staff at AuctionMethod.com.